You have heard that it was said,
'love your neighbor and hate your
enemy.' But I say to you, love your
enemies, bless those who curse
you, do good to those who hate
you, and pray for those who
spitefully use you and persecute
you, that you may be sons of your
Father in heaven; for He makes
His sun rise on the evil and on
the good, and sends rain on the
just and on the unjust.
For if you love those who love
you, what reward have you?
Do not even the tax collectors
do the same? And if you greet
your brethren only, what do you
do more than others? Do not even
the tax collectors do so?
Therefore you shall be perfect,
just as your Father in heaven is perfect."

Jesus/Yesu3/Issa (Matt. 5:44-46)
Note that some translation like this
New King James version use "perfect" in the last sentence.
The original Aramaic actually more aptly refers to
"mature" or "grown" or "complete" rather than "perfect."
NEW/UPDATED MATERIAL
Rights Blog 2012 and beyondSee New Link
Rights Blog 2011
Rights Blog 2010
Rights Blog 2009
Rights Blog 2008
Rights Blog 2007
Apartheid Blog
Questions and answers
Lies and Truths
Palestine Timeline
Open letter by George Salzman
Open Letter from Howard Cort
Honor List People we admire
Mark Braverman's Answer to Rosenfeld on issue of anti-ZionismMust read
Popular Resistance in Palestine
Israel Targeting civilians
Palestine 2006 Photos
Boycotts and Divestment
The World Economics Forum Controversy
Connecting the dots: IRAQ/PALESTINE
Palestine 101 Basic background, photos/text
Al-Rowwad Photo Journal

Palestine Diary From Trip 2005
Thomas Jefferson to Mordechai Noah
Quotable quotes
Einstein et al on Begin: Albert Einstein and prominent Jews
Condemn Menachem Begin and his party (Herut, Later Likud)

Talking points on Iraq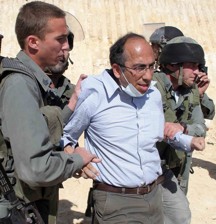 Qumsiyeh being arrested in Al-Walaja 6 May 2010
and (below) on 15 May 2011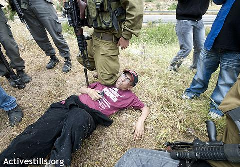 WHAT YOU CAN DO
About the webpage and the list
CONTACT US: mazin@qumsiyeh.org


Wheels of Justice Video
Wheels of Justice 2005 Photos and notes